The Federer Serve.
written: 1:06 p.m. on Wednesday, Jan. 14, 2009

I completely forgot Roger played an exhibition match this morning and was still lazing around in bed when it suddenly struck me at 11.30 this morning that I should check if he won.

He did, as expected. 6-2, 6-3 (or was it the other way round?) against Carlos Moya. DUHHHH.

But what I really want to say is, I love his service motion. It's a thing of beauty.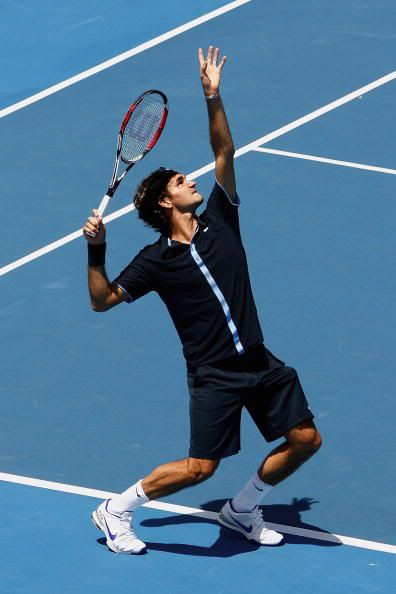 Players typically draw their back foot forward, in line with the front foot, when they lunge forward to hit the ball across the net. Roger doesn't. He tosses and draws back his arm and bends his knees in one smooth, fluid motion, then, in that position, his body coiled into a spring, he leaps forward and catapults the ball across the net.
Andy Roddick, Gael Monfils, also serve in the same way, but the beauty simply isn't there. While Roger's forehand has been praised to high heavens for being lethal and one of the best shots in the game, I think sometimes his serve is underrated. He's not known for serving huge 224 km/h serves like Roddick (in fact, that's the record for the fastest serve), and lately it seems like his first serve has been letting him down. But oh, even when his serves are not going in, just watching him do it is pretty amazing in itself. His service motion, how coherent and cohesive it is, is truly a thing of beauty.
before sunrise // before sunset
---
Previously:
- - Tuesday, Aug. 29, 2017
I'm moving. - Sunday, Jul. 11, 2010
In all honesty - Tuesday, Jul. 06, 2010
What I want for my birthday... - Sunday, Jul. 04, 2010
On Roger's behalf. - Friday, Jul. 02, 2010