(Australian Open 2009) Federer def. Seppi 6-1, 7-6(4), 7-5
written: 1:50 a.m. on Tuesday, Jan. 20, 2009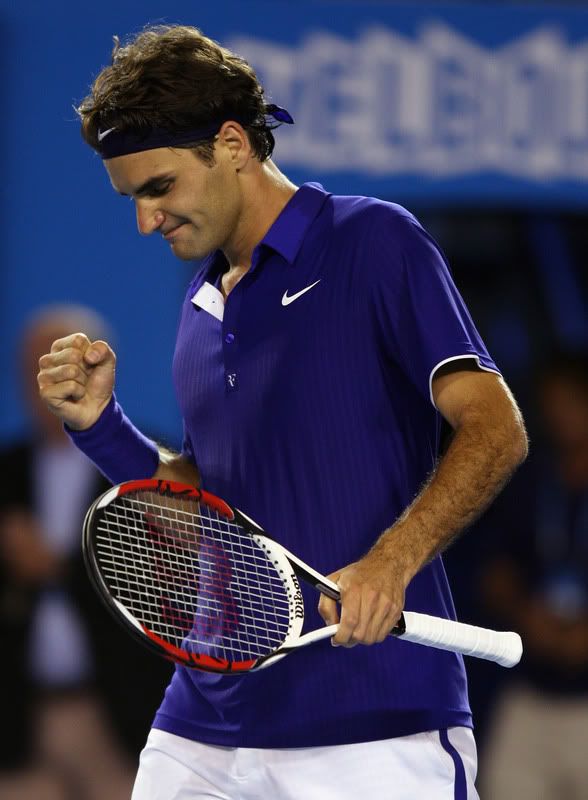 I just finished watching what my DVR recorded. It missed the first three games for some weird reason. It recorded the last 20 minutes of the women's match before it, but stopped recording for some reason, and only started again when my brother turned it on. Stupid lousy DVR I hate you. I was so distracted by the lack of context without the first three games that I couldn't properly focus on what I was watching - and I take my tennis watching VERY seriously, i.e. I must have the whole thing, from opening point to match point, or else. And it didn't record the first three games. ARGH.
Anyway, I'm quite tired now so I'm not going to say much (yeah okay we'll see how this pans out) except yay Roger advances!
Then again, I never doubted this outcome. Of course, it's easy to say this watching a tightly-contested last two sets after the fact when before, and during, the match, I was genuinely afraid he might crash out in the opening round. But when I'm pessimistic, everything is in order, so I shall remain pessimistic for the rest of the tournament.
This was one of those matches that I'd totally have a heart attack watching live. Good on Roger for saving those two set points in the second set, but oh my god, when he didn't convert all those break points he had, I was ever thankful that I already knew the result. When he lost the first three of his four match points, I was even more thankful that I had to go for class and so couldn't watch it live. It would've been way too stressful.
Still, Andreas Seppi was super lucky a couple of times when his ball clipped the net and dropped onto Roger's side, and naturally Roger couldn't get to it in time. The ball literally slammed the top of the net and fell to Roger's side of the court. The second time it happened, it was on break point - Roger was up 40-30 on Seppi's serve. When Seppi's ball hit the net and fell over and all Roger could do was watch from the baseline as it bounced once in his court and then out of his court, he let out this scary growl of frustration that would have scared the crap out of me if I were Seppi. So no, I don't fault Roger for losing that break point. Seppi got lucky - immensely lucky. Because I kind of felt Roger was close to breaking then, but luck intervened and saved Seppi's ass.
As for how he played, I don't really know. He made an astounding number of winners (40-something at the start of the third set; can't remember total number) and an astounding number of unforced errors (though certainly less than the number of winners). His net game was much more solid than the last time I saw him play and won most of his net points. His volleys were also crisp and never went out. But the first serve in the second set was a pathetic 40-something%, and watching him miss those first serves was rather painful. It's a good thing that his second serve is pretty strong, but without a first serve, he's going to keep playing these unnecessarily long matches. Seppi played damn well, mind you, but it was clear from the start who the superior player was, even if Roger didn't have the reputation that he has. And so the match could have wrapped up much earlier if Roger had his first serve working in the second set.
I have no idea what causes a player not to serve well. For me, I count myself lucky when my serves manage to float across the net and into the desired box. I also don't think Roger was trying to preserve his back or whatever excuse his fans constantly fanwank for him; he certainly was serving pretty damn hard (9 aces, by the way. Not bad). I guess he just missed, like, more than half the time in the second set. Oh well.
Also, I'm currently riveted with his backhand slice. The floaty, almost dreamy follow through looks good on everyone, but it looks beautiful on him. The commentator said something about how his slice stays low or something so that the opponent has no idea what's coming, immediately after Roger sliced a backhand to Seppi and Seppi's forehand return went straight into the net. He almost never misses his slices and they're absolutely wonderful to watch. I haven't figured out how to slice yet. Or rather, I haven't actually tried. I wonder if you can slice a forehand. Hmm. I must YouTube that.
Anyway, I'm glad he got a good workout for his first match. Most people got qualifiers and the like, and Roger, of course, got a guy ranked #30-something. Great. But hey, Carlos Moya lost to Random Russian (#100-something) so this should be an easy Round 2 match. But then, the problem with playing a player you've never played before is that you don't know his style, his tactics, so you might need a while to warm up to him. I kind of wish he's playing Moya instead since he just beat him last week. Oh well.
On a non-Roger note, oh fuck, Nalby's through, as is my Taiwanese guy, and they're playing each other in Round 2. Are you kidding me, Draw? I hate you. Lu Yen-Hsun is CONFIRMED out. There's no way he can pull an upset on David Nalbandian. SIGH. WHY SO TRAGIC. And after I added him to my list of players I want to track, too.
**
I'm super tired. I was kind of falling asleep towards the end of the match due to the whole 9 a.m. class and having to wake up at 7.50 a.m. thing and driving to school in the stupid traffic jam and forcing myself to stay awake thing.
Before I sleep, I don't like Roger's hair! It's so short! He's stopped touching his hair every two seconds because he has no hair to touch, and that upsets me terribly. One of the many, many things I love about watching him play is that habit of his, trying to tuck stray strands of hair falling over his bandanna behind his ears or whatever. It amused me greatly to see him touching his hair between points, but now his hair is too short. I'm so sad. I can't wait for his hair to grow back.
Lastly, love the outfit! Okay, shorts are too baggy; much prefer the previous form-fitting shorts. Still, the shirt is of a gorgeous colour and it fits him well. I approve.
His new bag, however...all I can say is, what the fuck is that fuckery? Nike, FAIL. My bag is sooo much nicer. The Wilson racquets bag, although not much of a variation from the previous, is utterly gorgeous. Red is a good colour on him. <3
before sunrise // before sunset
---
Previously:
- - Tuesday, Aug. 29, 2017
I'm moving. - Sunday, Jul. 11, 2010
In all honesty - Tuesday, Jul. 06, 2010
What I want for my birthday... - Sunday, Jul. 04, 2010
On Roger's behalf. - Friday, Jul. 02, 2010