Why I supported Lu Yen-Hsun over David Nalbandian.
written: 4:55 p.m. on Wednesday, Jan. 21, 2009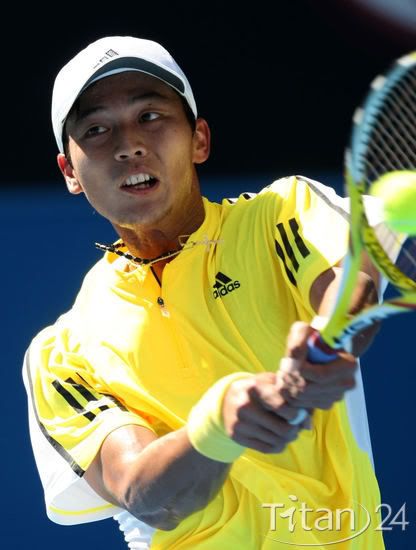 I love David Nalbandian. I consider him my #2 favourite after Roger Federer. He is an amazing player who is devastating with his racquet when he is on form. What I particularly love about him is that double-handed backhand that looks natural on him the way it doesn't look natural, or even masculine, on any of the other male tennis players.
I wanted Nalbandian to go far in this Australian Open; I really did. But when Star Sports switched over to his match with Lu Yen-Hsun immediately after Roger's match, I knew straight away who I wanted to win.
Lu Yen-Hsun pulled off the biggest upset of his career to date, and maybe I feel a little bit sorry for Nalbandian, but all I can think of right now is: Lu Yen-Hsun won. A Taiwan-born Taiwanese won a Round 2 match at a Grand Slam event, and he defeated the #10 seed and the #11 player in the world. He defeated David Nalbandian, when people like me were convinced that there was no way in hell he could pull off that upset. But he did it, going all the way to win it 6-4, 5-7, 4-6, 6-4, 6-2. I didn't watch all of it, just bits and pieces here and there, but did manage to catch the last two games. Lu was obviously nervous when serving for the match, choking on the first two points, but giving himself a match point at 40-30. Nalbandian, though, wasn't going down that easily; eventually, after about six or seven deuces in which Nalbandian held as many as six break points, Lu set up a match point for himself and clinched the victory with a deftly set up and beautifully-constructed forehand down-the-line winner.
Magnificent.
This entry isn't simply about the Australian Open or tennis. It's about the pride that I instinctively feel when I see a Taiwanese make an impact on one of the biggest sporting events in the world, pulling an upset on one of the best tennis players still active today - and it's the kind of pride that I wouldn't feel if he had been a Japanese or a PRC Chinese or a Malaysian or a Korean. It's the kind of pride that I would have felt if the Singapore team that won the silver medal at the Olympics had been a true-blue Singapore team.
This victory by Yen-Hsun feels so much sweeter, so much more authentic, so much more fulfilling, than any medals that the Singapore government can buy for the country. It's not about the victory or the medal per se; it's about the people that fought for it. It's about where they come from, who they're loyal to, why they're doing this. I won't go as far as to say that Lu Yen-Hsun is playing tennis professionally for his country (Taiwan, for the last time, is a country) because that would be way too much of a stretch. But I am saying that when it's one of us out there, playing his heart out to beat one of the best players in the world, the nationalistic inclinations take over and you forget that his opponent is also your second-favourite tennis player.
What I'm really saying is this: I still don't know if I can ever have a definitive answer to the "Are you Taiwanese?" question; all I know right now is that for the first time since I started following tennis, I can fully understand why some people support tennis players because they are from their countries. Watching the 2007 Australian Open final between Roger and Fernando Gonzalez, for instance, had me quite baffled at the sight of the guys who painted a Chilean flag on their faces, and I couldn't understand why anyone would support a player based on the country he's from.
But now, I fully get it. I'm not exactly one to give in to blind, rabid nationalism, but I'd say that it was some degree of nationalism that made me root for Yen-Hsun over Nalby. It's nothing to do with race or ethnicity or that he's Asian; like I said, I wouldn't care at all if he'd been Japanese or Korean instead. Hell, I wouldn't care, really wouldn't give a slightest shit, if he'd been PRC Chinese.
It's because he's Taiwanese - born-and-bred true-blue Taiwanese. He defeated Andy Murray in the first round of the Beijing Olympics, but this victory means so much more, precisely because tennis doesn't give a shit about the Olympics. Who would have thought that a Taiwanese could ever beat one of the top seeds? I know I had zero faith, but now, I know better.
At the same time, stoked as I am that a Taiwanese won, I can't help but feel rather sad that the only way for Singapore to ever do the same, at least according to the government's game plan, is to buy talent from other countries. I'm as eager as the next person to see Singapore do well in international sporting platforms, but it means nothing at all if the victory didn't truly come from Singapore. Because when one of your own makes a name for himself in such a huge way, the feeling is just indescribable.
GO TAIWAN!
***
The Australian Open always has an unexpected finalist. In 2006, it was a guy from Cyprus; in 2007, it was a guy from Chile; and last year, it was Jo-Wilfried Tsonga, and I guess also Novak Djokovic (but would've been Roger if he hadn't contracted mononucleosis).
This Australian Open, I hope with all my heart that the unexpected finalist is a guy not from Chinese Taipei, but from Taiwan. He has what it takes. His game would be among the top 20 if he controls his nerves and doesn't choke when closing it out. He did amazing to save those six break points that Nalbandian had in the final game of the match, and did amazing, too, to finally seal the deal.
I am so proud of him. I know it makes no sense, and it is just the second round, and he still has to beat a lot of other players before going anywhere near the final, and it IS too soon to tell; but still, this moment of nationalistic pride is quite unlike any other, and I'd savour it while it lasts. I don't think it'd occur very often.
***
Having said all that, if Yen-Hsun had played against Roger, I highly doubt I'd root against Roger. I don't think anyone can make me root against Roger. My dream scenario right now is a Yen-Hsun/Roger final with Roger winning it in straights.
But of course, that's too soon to tell. Yen-Hsun faces Tommy Robredo next and I have no idea how that's gonna go. I've only seen Robredo play against Djoker in last year's US Open and he took a set from Djoker, if memory serves.
Argh I can't wait! This Australian Open is so exciting!
before sunrise // before sunset
---
Previously:
- - Tuesday, Aug. 29, 2017
I'm moving. - Sunday, Jul. 11, 2010
In all honesty - Tuesday, Jul. 06, 2010
What I want for my birthday... - Sunday, Jul. 04, 2010
On Roger's behalf. - Friday, Jul. 02, 2010