(Australian Open 2009) Federer def. Korolev 6-2, 6-3, 6-1
written: 3:00 p.m. on Wednesday, Jan. 21, 2009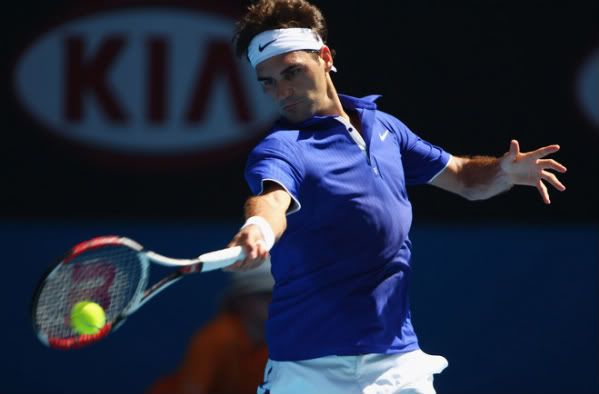 This match amused me to no ends. The commentators were hilarious, Korolev's eventual internal combustion was hilarious, and Roger's willingness to sit back and let his opponent do himself in was hilarious. What a great match. It basically went like this:
First set: Warm-up, sussing out the opponent
Second set: Practice, treating opponent like a hitting partner
Third set: Exhibition. Got this in the bag, so might as well entertain the crowd.
He might as well have put on his Rolex for that third set. 24 minutes later, it was over for poor Korolev. I think Roger was kind to let him win one game in that set, though of course I was hoping for a bagel.
Korolev started off well - served well, hit many winners, wrong-footed Roger a few times. I was genuinely worried at first when I saw that Korolev wasn't going to be a de facto walkover opponent.
But then, the errors started piling up. More importantly, Roger sussed him out quickly enough and saw that Korolev doesn't have much of a defensive game...if he has a defensive game at all. So Roger relaxed, took care of his own serve, and let Korolev power hit his way to the occasional winner and the many, many unforced errors. At the start of the second set, I was half-worried that Roger would do his usual 'breeze through first set screw up second set' pattern, but thankfully, he wrapped it up 6-3. By that time Korolev was going for broke by running on empty. Roger just stood there and swung his arm around a bit and then won the third set 6-1.
Okay, that's a huge exaggeration. There were a couple of fantastic points in the third that Roger won in great style after some running and was really pleased with, but yeah, other than that, he just stood there, swung his arm around a bit, and let his opponent destroy himself.
Korolev isn't a bad player; he just needs to reign in the aggression. One of the commentator was so snarky though, and it was so hilarious because he said it in such a cool, nonchalant manner. At one point, long after everyone watching the match has established that Korolev's gameplan is to attack and do nothing but attack, the commentator went, "You just don't get extra points for hitting the name off the tennis ball."
HAHAHAHA.
Another gem, after Roger's first serve and volley: "Here we go, serve and volley, a little bit of practice."
Yep, it was basically a practice match for Roger. This should have been his first-round match but well, I'm pleased with the way things turned out. 15 errors to 25 winners (Korolev: 26 winners, 44 unforced errors. He contributed half of the total points won by Roger. Thanks!), but more importantly, he found his first serve. I was so happy when he fired those two back-to-back aces in the opening game.
Roger faces Marat Safin next. The last time they played each other in the Australian Open, Roger lost to Safin in a five-setter semi-final. This is one match I'd be quite happy not to watch live 'cause I'd just die of a heart attack.
Still, I'm sure he'll make it. He's Roger Federer.
before sunrise // before sunset
---
Previously:
- - Tuesday, Aug. 29, 2017
I'm moving. - Sunday, Jul. 11, 2010
In all honesty - Tuesday, Jul. 06, 2010
What I want for my birthday... - Sunday, Jul. 04, 2010
On Roger's behalf. - Friday, Jul. 02, 2010