(Australian Open 2009) Federer def. Berdych 4-6, 6-7, 6-4, 6-4, 6-2
written: 3:58 p.m. on Sunday, Jan. 25, 2009

HE DID IT.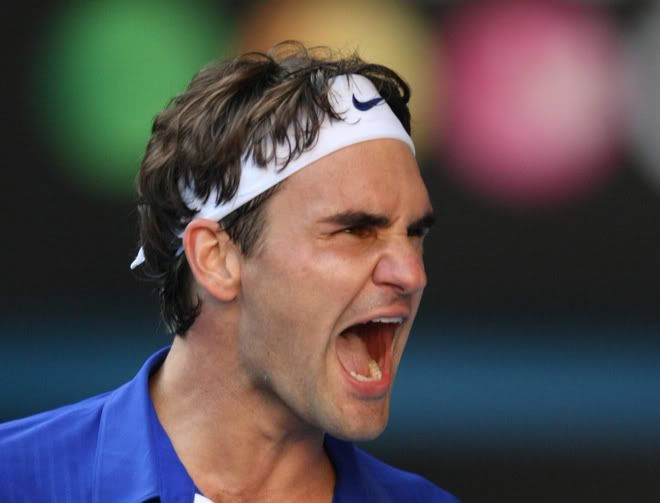 If this was his idea of "having fun" a la the five-setter against Igor Andreev in last year's US Open Round 4 (or was it Round 3?), then I hope he NEVER has fun ever again. Does he realise how bloody nerve-wrecking and PAINFUL it was, sitting through the past three hours, trying to make sense of what was going on, wanting to will him to victory but not daring to hope, just in case? If I'd sat through the whole thing, my heart would have stopped at some point.
It's easy to say "I should have known" now that he's won. It is the Australian Open, he is chasing history, and he is Roger Federer. But I swear, when he gave back the break in the third set, before finally getting another, I honestly thought he'd tanked it. It wasn't until he was up two breaks in the deciding set that I finally, finally knew that he'd win.
But then, he almost suffered a massive choke when he couldn't close it out and gave Berdych a break point. Thankfully his serve is working today and he aced a couple of times and clinched the match, after which he jumped up with a huge yell of victory, and thereby restoring order to the world again.
Whatever it was that afflicted him in the first two sets, it doesn't matter. Doesn't freaking matter. This marks the fourth time in his entire career Roger came back from a two-sets-to-love deficit to win the match. I really do not like sitting through these epic matches, but it is also matches like this one that prove why he was #1 for so long, why he won 13 Slams, and why he's the undisputed champion of the tennis world. You must have a tremendous amount of fight in you to come back from 0-2 to win, and now I truly understand why Roger prefers best-of-five matches. If it'd been a best-of-three, he would have lost.
I love him so much right now. SO MUCH! I feel really bad I doubted him, but honestly, the way he was playing the first two sets gave me no room to hope and to believe. The most glaring aspect of his game today was his meek return of serve - he'd chip his return, giving Berdych a short ball and thus plenty of time, and Berdych would jump on it and rip a forehand winner. I mean, really. And we're talking about Berdych's second serve. I was glad to see Roger being more aggressive on the return towards the end. Maybe he finally figured out that floating his slice return wasn't working. Yeah, sure took him long enough to realise that!
More than ever now, after this epic match, I believe he will win the Australian Open. He was severely tested by Berdych, and he emerged victorious. He was severely tested by Andreev in New York, and he clinched his fifth US Open trophy. He's got this. He knew that he had to win, he knew how to do it, and he did it. This is why I love him so much - when everything looks bleak, he changes gear and proves you wrong.
I'm so glad he woke up in time to win the match. Thank you, Roger, for renewing my belief in your 14th Slam.
And lastly, I'm sure there's a lesson to be learned here about not giving up and fighting for what you want and fighting your heart out until the last possible minute, but...I'm a little bit emotionally-spent right now, and so I'll go drool over pictures from the match before I start cleaning my room.
YAY ROGER!
before sunrise // before sunset
---
Previously:
- - Tuesday, Aug. 29, 2017
I'm moving. - Sunday, Jul. 11, 2010
In all honesty - Tuesday, Jul. 06, 2010
What I want for my birthday... - Sunday, Jul. 04, 2010
On Roger's behalf. - Friday, Jul. 02, 2010