(Australian Open 2009) Federer def. humiliated Del Potro 6-3, 6-0, 6-0
written: 8:44 p.m. on Tuesday, Jan. 27, 2009

Er.

What the hell was that?

Roger played beautifully, if not perfectly. Del Potro did not play like a World #6, did not play like someone who received much hype at the end of the previous season. Was it a matter of Roger playing too well, or Del Potro giving up before the match was even played? I mean, sure, Roger doesn't play like this all the time (9 unforced errors - when was the last time his unforced errors were kept so low?), but out of all his matches I've seen to date, Del Potro's performance was by far the worst.

Roger's perfect tennis in this match reminded me a lot of his perfect tennis in the 2007 semi-final against Andy Roddick. Every shot worked like magic - every shot was in, every shot hit the right spots, all his volleys and drop shots worked, most of his serves went in, and he hit 12 aces, no double faults, and did not face a break point. If only every match could be like this one - pure perfection, a crash course in tennis over 1 hr 21 min (shortest Grand Slam match ever?), and reminding everyone watching why he is who he is.

The only problem is, Roddick at least put up a fight, rushing the net in an attempt to shorten the points and go for a volley-winner, only to get passed by Roger because he was just too good. Roddick put up a fight, but Del Potro just looked disinterested and defeated. He tried maybe a couple of times to get Roger on the run but ever since the first break of serve in the second set, he was just mentally gone.

And because Del Potro checked out mentally, I couldn't enjoy Roger's magnificent tennis the way I should have. It was like he was playing against some beginner (like me!). He had no competition whatsoever. I mean, I knew Del Potro would be easy, and I was expecting a straight sets win, but a double bagel? I'm quite proficient at underestimating Roger's opponents but it never once crossed my mind that Del Potro would be THIS easy. It got to the point when I actually was hoping Del Potro would get on the scoreboard when Roger served for the match - put another way, for once, I wanted Roger to get broken!

Okay, only a little, just to make Del Potro feel better, but well, wasn't to be. Roger trampled all over him. Poor Delpy. This says it all:

Q. Just tell us what happened.

JUAN MARTIN DEL POTRO: You have to ask Roger what happened. I can't do nothing in the match. He play like No. 1 of the world, so that's it.

Poor Del Potro. I suspect it had something to do with how Roger kept slicing his backhand, which kept the ball low, and Del Potro, being super tall, probably had trouble hitting those back. Well, whatever it is, I'm so happy he won and played such perfect tennis. If only every match could be like this!

But then, he might get bored. He sure as hell did today: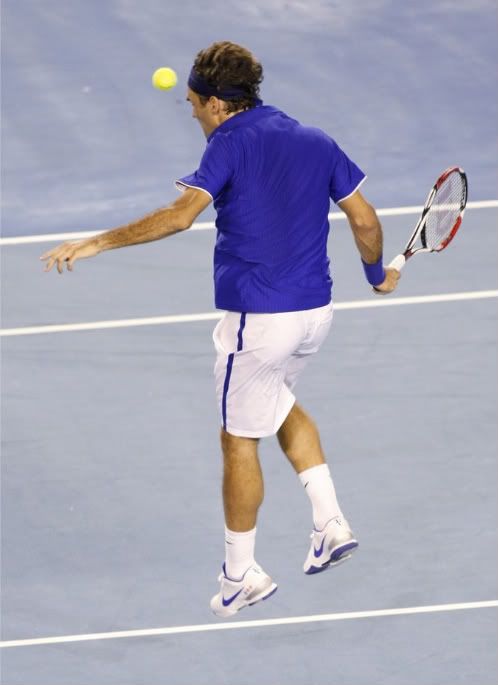 Headbutted the ball for a winner. At first I thought Del Potro's return didn't make it over the net; the umpire called "Game, Federer" before Delpy's return even landed. But on replay (countless times), it was clear that Del Potro's return did in fact make it over the net, and Roger decided it would be fun to headbutt a winner.
I NEVER KNEW YOU COULD SCORE WINNERS WITHOUT USING YOUR RACQUET. (Edit: Apparently the ball already bounced twice before Del Potro hit it back so Roger had won the point before the header. This wasn't shown on TV!)
Also, I finally noticed today how fantastic Roger's footwork is. The footwork is probably the most overlooked aspect of tennis for beginners and casual viewers because there's nothing really interesting about it unless you play or are super interested in the sport. His footwork, when it's right, is so fluid and coherent.
Actually, everything about his tennis is fluid and coherent. Roger Federer is tennis. Some players have certain niche areas, like Roddick and his serve, Nadal and his extreme topspin forehand, Murray and his defensive game; Roger, on the other hand, has in his tool bag every shot, every aspect of the game. He IS tennis. There's really no point watching anyone else if one's seeking to pick up the sport; watching Roger, especially in a match like this one, is pretty much Tennis 101. He played all the shots of the game today, and played them perfectly. I haven't seen him so on since perhaps last year's US Open final - and even then, I think he was more on today than in that final.
I hope this Roger shows up for the Roddick semi-final. I have full confidence that Roger will win, but it'd be fun if he won in style. It'd be even more fun if the 2007 semi-final repeats itself! Hahaha. Roddick would probably give up tennis though; that was one hell of a humiliating match for him.
In other news, I hope Nadal loses tomorrow! Djokovic losing today was great news for me, though it'd be much sweeter if he'd actually stuck it out and lost the match instead of quitting like a fucking loser. I'm impressed that Del Potro suffered the humiliation to the very end today and didn't retire. Good on him!
**
ETA at 11.25 p.m.:
I'm swelling with love for Andy Roddick right now:
Q. Talk about Roger in the last year or so.
ANDY RODDICK: Last year? Maybe last decade.
Q. If it turns out being him, is this a better chance for you than it has been in the past few years?
ANDY RODDICK: No, I was really happy to see Roger win the US Open last year. If I'm being frank with you guys, he was a lot classier in that press conference with everyone here than I would have been if I was in that position.
He has nothing to prove. He's the greatest. He's created quite an animal for himself, where if someone wins a set they're questioning his form. The guy made two finals, a semi, and won a Slam last year and people are saying he's off form. I think he deserves a lot more respect than that.
Just for that, I think Roger should gift him one set in the semi-final match on Thursday.
I can't wait to see them play each other! I was hoping to get my dream final at Doha but it wasn't to be. I'm so happy I'm getting it now, even if it's the semi-final! Too bad I'll be in class from 4.30 to 6. ARGH. Nevermind, I shall run home after class and hopefully catch the last few games.
before sunrise // before sunset
---
Previously:
- - Tuesday, Aug. 29, 2017
I'm moving. - Sunday, Jul. 11, 2010
In all honesty - Tuesday, Jul. 06, 2010
What I want for my birthday... - Sunday, Jul. 04, 2010
On Roger's behalf. - Friday, Jul. 02, 2010