Rubbish Evony entry.
written: 4:58 p.m. on Saturday, Oct. 03, 2009

<16:48>[Jinchuuey]: im talking about a group of women who worship me =)
<16:48>[Jinchuuey]: or one whichever
<16:48>[Fravo]: lol
<16:48>[ArabellaWoodmist]: lol
<16:48>[Jinchuuey]: i know where to find one though
<16:48>[tripwires]: but you have to house them somewhere
<16:48>[Jinchuuey]: ill attack her til she gives in
<16:48>[ArabellaWoodmist]: in this alliance.
<16:48>[Jinchuuey]: sure, she can have the bedroom
<16:48>[Jinchuuey]: ill take the couch
<16:48>[ArabellaWoodmist]: all the womene here worship Jin.
<16:49>[tripwires]: LOL!
<16:49>[ArabellaWoodmist]: women even
<16:49>[Jinchuuey]: 380,465 is my target =)
<16:49>[tripwires]: oh who's that?
<16:49>[Jinchuuey]: ...
<16:49>[tripwires]: LOLOLOL
<16:49>[Fravo]: trip is hitched already
<16:49>[Jinchuuey]: not the point
<16:49>[Jinchuuey]: im Host i has no rules
<16:50>[tripwires]: not even grammar rules clearly
<16:50>[Fravo]: lol THAT is a point though!
<16:50>[Jinchuuey]: clearly
<16:50>[tripwires]: my boyfriend's host of the #1 alliance in server 44
<16:50>[tripwires]: bwahahaha
<16:50>[tripwires]: ok i shouldn't be proud of that. omg
<16:50>[Jinchuuey]: lol

(380,465 is my second city.)
And I just got outed on the alliance chat as a lawyer. OMG GREAT. =(
Also, I found some Chinese player who named his city Beijing. I'm attacking him now. I'm very happy. I should change my city name to Taipei just for the hell of it.
OMG I THINK I MIGHT DO JUST THAT. HAHAHA.
Too bad I can't input Chinese characters.
*
ETA: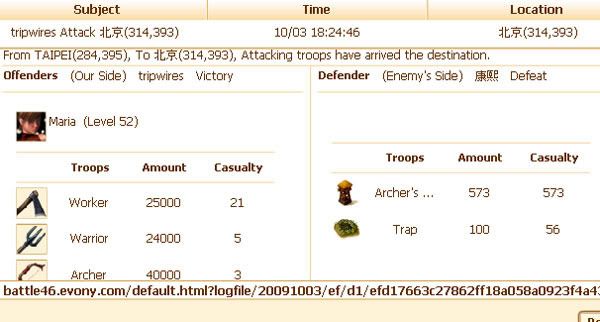 HA HA HA HA HA HA HA HA HA.
On another note, omg, just found out Jay Chou's acting in a Hollywood movie.
OMG THE END OF THE WORLD IS NEAR. SINCE WHEN CAN HE SPEAK ENGLISH. OMG CAN I FAINT AND DIE NOW. WHERE'S THE 2009 ALBUM? WHERE? I WANT IT DAMMIT. STOP MAKING STUPID MOVIES AND START MAKING GOOD MUSIC PLEASE, THANKS.
before sunrise // before sunset
---
Previously:
- - Tuesday, Aug. 29, 2017
I'm moving. - Sunday, Jul. 11, 2010
In all honesty - Tuesday, Jul. 06, 2010
What I want for my birthday... - Sunday, Jul. 04, 2010
On Roger's behalf. - Friday, Jul. 02, 2010